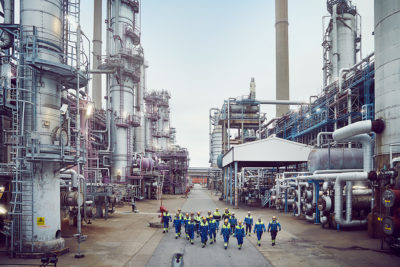 Industry
Energy
Number of employees
Totally about 1.500 employees. In Lysekil about 700.
Work location and occupational roles
Lysekil.
Engineers. For example: Planning & optimization, Refinery development, Working environment engineers, Environmental engineers, Laboratory engineers, MT engineers, Process engineers, Process Control Engineers.
Operators
Technicians
Company founded in
The company Preem founded in: 1996
Established in Lysekil since: 1975
Description
Preem is the largest fuel company in Sweden. Our vision is to lead the transition toward a sustainable society.  Our two refineries are among Europe's most modern and most environmentally efficient. In total, nearly 18 million cubic meters of crude oil are refined every year at our two refineries Preemraff Göteborg and Preemraff Lysekil. Preem accounts for 80 percent of the Swedish refinery capacity and 30 percent of the Nordic refinery capacity. For Sweden, the figure corresponds to 15 percent of Sweden's total energy consumption.
Our business includes production, sales, distribution, trading and supply. We refine and sell petrol diesel, fuel oils and renewable fuels to businesses and individuals in Sweden and Norway. About two-thirds of the products are exported. We also have a nationwide service network with 570 service stations for private and commercial traffic. Preem AB has just over 1.500 employees whereof 950 works at the refineries. For the full year 2017, Preem's turnover was just over SEK 69 billion.
At Preem, we see diversity and inclusion as a prerequisite for sustainable development and that each employee, through his or hers unique background, skills, personality and experience, contributes to our high vision to lead the transformation towards a sustainable society. For us it is important that our values matches yours.
Read more about Preems vision, core values and career opportunities at our career site.